Regular price
Sale price
$36.98 USD
Unit price
per
Sale
Sold out
😍Rodent Repeller works by low-frequency sonic pulses that travel underground through the soil but can't disturb your family and pets.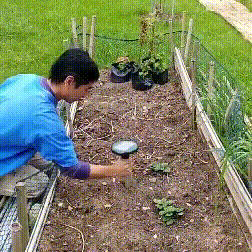 REPEL: Send out a burst of sonic waves every 40 seconds, that can drive away from the snake, moles, voles, mice, and rats within about 7,000 sq. ft, build a safer place for you and your family.
SOLAR POWERED: The new repeller is powered by a 70mm x 90mm big size solar cell. When fully charged, the batteries have enough power to operate the mole repellent through the hours of darkness and maintain continuous 24-hour protection, much economical compared to a battery-powered repeller.
It can be plated into the ground deeper and more firmly. Insert the spike firmly into the ground and enjoy the pest-free environment.
CHEMICAL-FREE: The repeller is safe for use around pets and children. No need for chemicals, poison sprays, or traps.
WEATHERPROOF: Suitable for all weather conditions. But Choose the best sun location, so the solar panel can receive the light as directly as possible.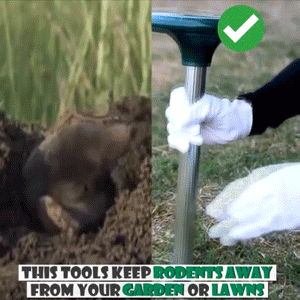 Protect your lawn and garden and farm
A humane and safe way to get rid of moles, gophers, groundhogs, voles, cockroaches and snake.they are chased away unharmed, no chemicals or poisons. no harm to your family and pets.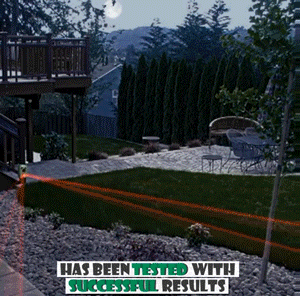 Sonic pulses emitted 3-4s sonic pulses for every 30s, it penetrates the soil and forces pests to evacuate the area covered by the sound.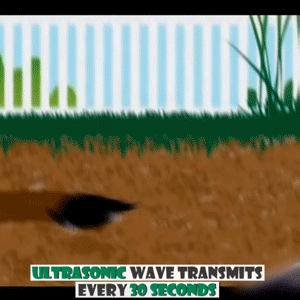 Multifunction: it's can also work as a night light in your garden. save your money on the night light.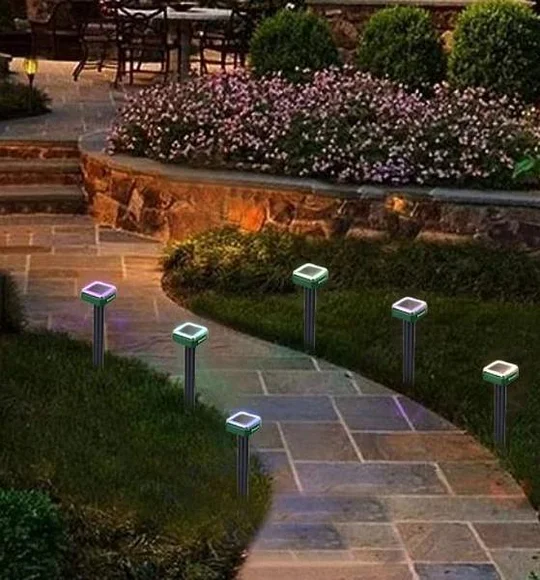 This Mole chaser spike is charged by its solar panel. 4-hour solar charge lasts for 5 days working, no need to replace the battery.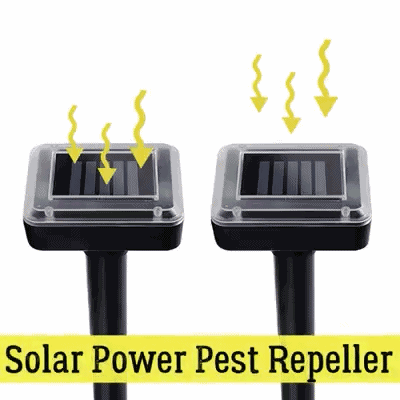 🐍For optimal performance, we recommend that during the installation of the yard mole repeller be placed every 45 feet on your lawn. Place it around your yard or farm.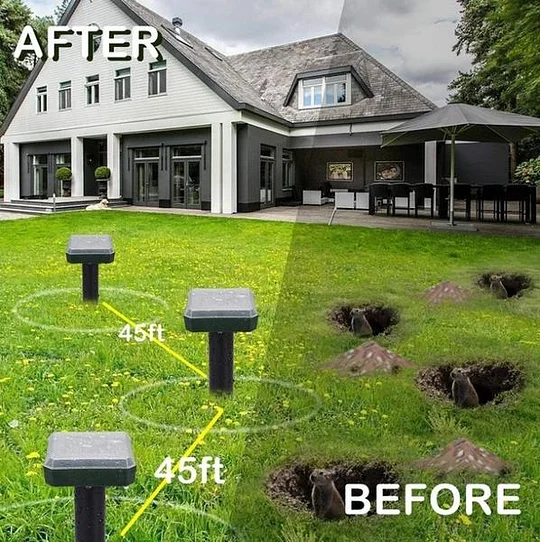 HIGHLIGHTS
EMITS ULTRASONIC WAVES: Stimulates sonic waves religiously which an effective technique to drive away any uninvited nocturnal animals
POWERED BY SOLAR ENERGY: Works and charges the battery during the day and runs on battery at night.
WATERPROOF: Durable and cost-efficient. It works well in any weather condition.
EASY TO INSTALL AND USE:

 

Simply set it up once and it will run by itself, with no wires & low maintenance!
ENVIRONMENTALLY FRIENDLY: Functions without any toxic or harmful chemicals to deal with or pose danger to pets and humans.
HIGH-QUALITY MATERIALS:

 

Made of sturdy materials, needs no frequent replacement, and can save money.
HOW TO USE:

 🐀Product Specifications:
Frequency: 400Hz-1000Hz
Solar Panel Size: 65*50mm
Material: ABS
Product Size: 10*8.5*22cm (L*W*H)
Charging Time: 4.5H
Working Time: 400H
Battery: 1.2V 600mA
Power: 0.001W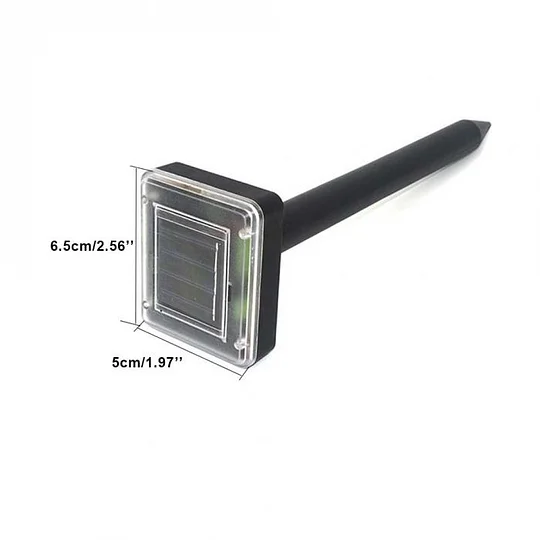 Share
View full details